Atal Innovation Mission's New Launch (ARISE - ANIC)
by Ananya Sahu
Posted on Wed, 23 September, 2020, 05:02 PM IST
---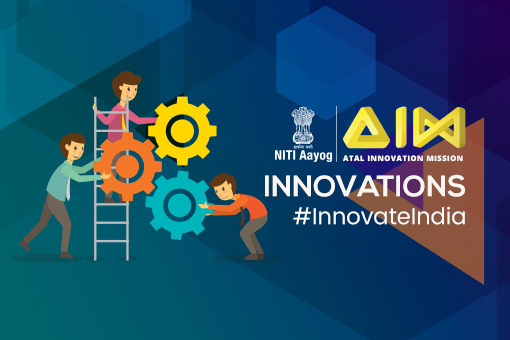 ---
On 9th September 2020 Atal Innovation Mission (AIM), NITI Aayog, set in motion one of its most dynamic and awaited Initiative, the Aatmanirbhar Bharat ARISE-ANIC, to encourage research and development in Indian MSMEs and Start-ups. The initiative is in collaboration with ISRO and four other ministries.
Bearing in mind that MSMEs are the growth engine of the country and believe in its potential, the program attempts to identify and promote innovations in this sector. The program intends to support research-based innovations by funding them for the development of technological solutions or products. At the virtual launch of the initiative, Minister of Micro, Small and Medium Enterprises, Nitin Gadkari said, "Science should help solve socio-economic problems and scientific research should be extended from the labs to the land." Having said that the initiative would promote technopreneurs who have the extraordinary potential to level up the future of science and technology and the future of India.
Eligibility criteria and incentives provided:
The program encourages MSMEs and Start-ups or in case of an individual applicant, the primary condition is the applicant shall be registered under Startup India and MSME sector. The grant in aid of up to 50 lakhs will be provided in tranches over a period of nine to twelve months for developing a minimum usable prototype or a field-deployable prototype. Not only the initiative aims at providing funds but also the award-winning products will be supported by various incubations centers and if the product is successfully completed the product will be procured as the first choice by the ministries who need such products to be deployed across the country. It is a noble attempt taken by the think tank of India and AIM to build a constructive and dynamic environment for a startup to grow in.
ARISE-ANIC Challenge statement:
As discussed, the different challenge statements released by the concerned government wing is deliberated hereinbelow classified by ministries and departments.
Indian Space Research Organisation (ISRO)
Propulsion - Green propellants, Electric propulsion, advanced air-breathing.

Geospatial information - Geo-spatial information using ML /AI useful in crop monitoring, weather forecasting and program evaluations.

Robotics/AR/VR - Application of robotics, AR / VR techniques supporting space exploration, outer space monitoring.
Ministry Of Defence
AI-based predictive models - AI-based Predictive Maintenance of Plant Machinery.

Auto Stabilizer system - Design & Development of latest technology Auto stabilizer system as Form, Fit & Function (FFF) replacement of existing Auto stabilizer system.

Communication Modem - Wideband HD data communication modem with 4G Automatic link establishment data throughputs of the order of 120 kbps.
Ministry Of Food Processing Industry
Waste to wealth - Waste to wealth - in food processing. Effective utilization of commercial food processing industry waste streams.

Alternative food packaging materials - Development of alternative food packaging materials, against the use of single-use plastics; materials from food waste and bio-sources.

Machinery for indigenous food products - Development of machinery for indigenous food products. Optimized processing conditions and machinery for bulk production of native Indian product.
Ministry Of Health and Family Welfare
Health Data analytics - Use of data analytics to identify early breakout of epidemics based on the historic Curve and data.

AI solutions - AI-based solutions for Anti-Microbial Resistance (AMR) surveillance.

Healthcare monitoring - Monitoring the logistics of cold chain in the immunization program.
Ministry of Housing and Urban Affairs
Project Water - Water pressure sensing systems to monitor leakage, illegal activity, and help manage planned pressure in water supply lines.

Project Clean Air – Development of Smart technology to reduce pollution through construction dust by at least 25%.

Project Move - Development of using smart technology to create a real-time mobility decision support system for Indian cities.
To participate in ARISE-ANIC Programme click here. In case of assistance with the registration process, contact Caim Consulting.
We at Caim Consulting are always glad to serve you with meaningful and relevant information on your business!
"We assist and you thrive"
---